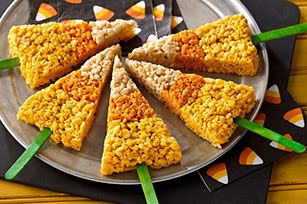 .Ingredients.
3 Tbsp. butter or margarine
1 pkg. (10 oz.) JET-PUFFED Marshmallows
6 cups crisp rice cereal
4 drops red food coloring
24 drops yellow food coloring, divided
.Instructions.
1. MICROWAVE butter in large microwaveable bowl on HIGH 45 sec. or until melted. Add marshmallows; toss to coat. Microwave 1-1/2 min. or until marshmallows are completely melted and mixture is well blended, stirring after 45 sec. Add cereal; mix well.
2. PAT 1 cup cereal mixture into 3-1/2-inch circle on center of large cutting board sprayed with cooking spray. Add red food coloring and 12 drops yellow food coloring to 2 cups of the remaining cereal mixture; mix well. Tint remaining cereal mixture with remaining yellow coloring.
3. PAT orange-colored cereal mixture into 1-1/2-inch-wide ring around cereal mixture on cutting board. Repeat with yellow-colored cereal mixture. Cool completely.
4. CUT cereal mixture into 12 wedges. Insert wooden popstick into rounded end of each wedge.


(Source: Kraft)


Enjoy!