Makes 1 large pumpkin cheeseball to serve about 25
.Ingredients.
3 8 oz. packages cream cheese, softened
1 cup grated cheddar jack cheese
1/4 cup dehydrated onion flakes
2 tablespoons granular beef bouillon
1/4 cup bacon, crumbled
orange paste food coloring
green bell pepper
yellow bell pepper
.Instructions.
1. Whip the cream cheese and cheddar jack cheese until fluffy.
2. Add the onion flakes, beef bouillon, and bacon and whip until the bouillon is dissolved and the ingredients are well-mixed.
3. Add enough orange food coloring to make the mixture pumpkin colored.
4. Line a 1-quart bowl with plastic wrap.
5. Scoop the cheese mixture into the bowl and fold the plastic wrap over.
6. Refrigerate until firm.
7. Remove the cheeseball from the plastic wrap and transfer it to a serving tray.
8. Using the plastic wrap, reshape the ball, then using a skewer, make small indentations starting at the tip to the bottom to resemble a pumpkin.
9. Cut the green bell pepper into a stem and leaves for the top of the pumpkin; cut three triangles from the yellow pepper and a jack-o-lantern mouth.
10. Push the pepper pieces onto the pumpkin.
11. Cover and refrigerate until serving time.
.Tips.
* Use whatever colored bell pepper you prefer, any color looks great yellow, orange, red or green!
* You can even use the pepper's stem for the pumpkin stem.
* Serve on a tray with crackers of your choice.
.Variation.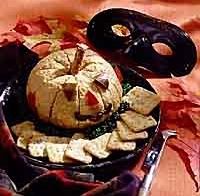 Makes 16 to 18 servings
.Ingredients.
1/2 (8-ounce) package cream cheese, softened
1/4 cup solid-pack pumpkin
1/4 cup pineapple preserves
1/4 teaspoon ground allspice
1/4 teaspoon ground nutmeg
1 pretzel rod, broken in half
Dark rye bread, red bell pepper, black olive slices and fresh parsley
Assorted crackers
.Instructions.
1. Beat cheeses, pumpkin, preserves and spices in medium bowl until smooth. Cover; refrigerate 2 to 3 hours or until cheese is firm enough to shape.
2. Shape mixture into round pumpkin; place on serving plate. Using knife, score vertical lines down pumpkin. Place pretzel rod in top for stem.
3. Cut bread into triangles for eyes. Decorate pumpkin, using bread, pepper, olives and parsley.
4. Cover loosely; refrigerate until serving time. Serve with crackers.
(Source:
Bella Online
&
Divine Dinner Party
&
How Stuff Works
)
Enjoy!