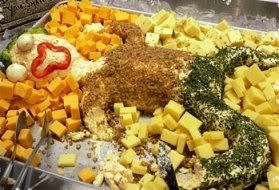 This recipe makes a medium-sized Screamin' Cheese Man, enough to feed about 15 people.
.Ingredients.
3 (8 oz.) packages soft goat cheese or cream cheese; or
1 recipe Three Cheese Cheeseball; plus
1/3 C. chopped parsley or chives
1/3 C. finely chopped nuts
2 tbsp. poppy seeds (optional)
2 small button mushrooms
3-4 broccoli florets
1 slice from a narrow red bell pepper
.Instructions.
1. On your serving platter, form your cheese into a man shape, like that pictured. If the legs and arms are at odd angles, it's gives the impression that he's writhing in pain.
2. Gently press chopped parsley or chives into cheese from the "waist" down to make pants. Make poppy seed "shoes" if desired.
3. Press the finely chopped nuts from the waist to neckline, to make a nut shirt. Leave "hands" bare.
4. Chill until firm, 2-3 hours at least.
5. Decorate the head with button mushrooms for eyes, broccoli hair, and a screaming red pepper mouth.
6. Allow to soften slightly before serving. Surround with your preferred combination of cheese, meats, veggies, and crackers.
.Tips.
* You can put him together out of whatever ingredients you like. Soft goat cheese, plain cream cheese, or the Three Cheese Cheeseball recipe below.
* This is one of the most easily adjustable easy Halloween recipes you can make. Want to make a smaller Screamin' Man for a small dinner party? Use less cheese. Want a larger one? Simply buy more cheese. Since the rest is just decorating, it's easy to adjust your ingredients.
.Three Cheese CheeseBall..Ingredients.
2 C. finely shredded swiss cheese, room temperature
2 C. finely shredded sharp cheddar cheese, room temperature
1 (8 oz.) pkg. cream cheese, softened
1/2 C. sour cream
1/4 C. dry white wine (optional)
1/2 C. minced sweet onion
1/4 C. roasted red pepper, finely chopped
10 slices bacon, cooked crisp and crumbled
1/4 C. chopped fresh Italian parsley
1/2 C. finely chopped pecans or walnuts
salt and pepper, to taste
.Instructions.
1. In a large mixing bowl, beat the cream cheese, sour cream, and wine until fluffy.
2. Add the swiss and cheddar cheeses, onion, roasted pepper, half the bacon, half of the nuts, salt, pepper, bacon, nuts and chopped parsley. Beat between each addition.
3. Wrap tightly and chill until firm and flavors have mixed, at least four hours. Overnight is better.
4. Let soften slightly before serving.
(Source:
Divine Dinner Party
)
Enjoy!