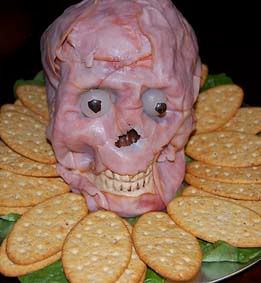 This is a super simple recipe that has many variations, you and your guests are sure to love this treat!
.Ingredients.
1 full-sized plastic human skull
1.5 lbs. thin sliced deli meat, your choice
Cream cheese, BBQ sauce, or cranberry sauce (see below)
2 hard boiled egg yolks, round mini-mozzarella pieces, or cocktail onions
2 slices of pimento-stuffed green olive
Your Choice of Crackers
.Instructions.
1. Buy a plastic skull. Wash the skull with soap and water and allow to dry.
2. Spread a "base" over the skull. BBQ sauce and jellied cranberry sauce give the skull a bloody, gory look as your guests lift away the lunch meat. Cream cheese is not as fun, but probably tastes better with most meats. This is entirely your choice.
3. Evenly distribute your lunch meat over the prepared skull, leaving openings at the eyes and mouth. Smallish pieces of meat work better than larger ones, as they're easier to manipulate and form. You may need to use toothpicks to get some of the meat to stay in place.
4. For eyes, place one hard boiled egg yolk or small mozzarella cheese ball in each eye socket. Top with a slice of pimento-stuffed green olive.
6. Cover with plastic wrap and refrigerate until ready to eat.
7. Searve with crackers and toothpicks so guests can remove the layers of meat.
.Tips.
* If you would like your masterpiece to last a big longer, use a large tray and arrange extra meats and sauce around the crackers, that way those will get eaten first and everyone will get a chance to see your Meathead.
* Buy meat as thinly sliced as possible and you can use whatever lunch meat you like-- turkey, ham, corned beef, chicked, prosciutto, salami - the possiblities are endless! Its a basic recipe that you can suit to your needs effortlessly.
(Source: Myself,
Divine Dinner Party
)
Enjoy!