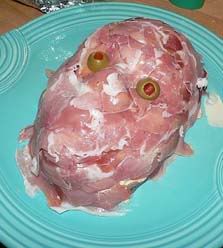 This is a super simple and you can vary it to fix you or your guests easily.
.Ingredients.
1 art shop mask or simple Halloween mask
1 lb. lunch meat, your choice
2 hard boiled egg yolks
2 slices pimento-stuffed green olive
1 recipe prepared "Triple Cheese CheeseBall" (below), unshaped
.Instructions.
1. In the bottom of either a face mold from an art store or a plain plastic face mask from a Halloween costume, place a layer of plastic wrap. This creates a protective layer between the meat and what may not be a food-safe product.
2. Into the plastic-covered interior of the mold, layer your lunch-meat. Be sure to use quite small pieces, as your guests will need to get through the meat layer in order to get to the cheese underneath.
3. Press your prepared, unshaped cheese ball mix into the mold. Press firmly to maintain a "face" shape.
4. Cover and refrigerate until firm, at least 6 hours.
5. Un-mold onto a serving platter. Depending on the size/shape of your face (and its eye sockets), you may be able to add egg yolk eyes with olive irises, half-egg yolks, or any other combination of ingredients. Play with it until you get a look that you like.
6. Surround face on place with veggies and/or crackers.
.Tips.
* Feel free to use whatever cheese ball recipe you prefer. This is so flexible, any one would work!
* Be sure to have your mask first and make enough cheeseball mixture accordingly.
* Buy meat as thinly sliced as possible and you can use whatever lunch meat you like-- turkey, ham, corned beef, chicken, prosciutto, salami - the possibilities are endless! Its a basic recipe that you can suit to your needs effortlessly.
.Three Cheese CheeseBall.
This recipe makes two baseball-sized balls, enough to feed 15-20 people.
.Ingredients.
2 C. finely shredded swiss cheese, room temperature
2 C. finely shredded sharp cheddar cheese, room temperature
1 (8 oz.) pkg. cream cheese, softened
1/2 C. sour cream
1/4 C. dry white wine (optional)
1/2 C. minced sweet onion
1/4 C. roasted red pepper, finely chopped
10 slices bacon, cooked crisp and crumbled
1/4 C. chopped fresh Italian parsley
1/2 C. finely chopped pecans or walnuts
salt and pepper, to taste
.Instructions.
1. In a large mixing bowl, beat the cream cheese, sour cream, and wine until fluffy.
2. Add the swiss and cheddar cheeses, onion, roasted pepper, half the bacon, half of the nuts, and salt and pepper to taste. Beat between each addition.
3. Refrigerate until firm.
4. Shape into two balls (or whatever shape you've chosen for your recipe).
5. In a small mixing bowl, mix the rest of the bacon and nuts, along with the chopped parsley.
6. Roll balls in nut mixture.
7. Wrap tightly and chill until firm and flavors have mixed, at least four hours. Overnight is better.
8. Let soften slightly before serving.
.Tips.
* For the "flayed face" recipe above, you'll want to mix all of the nuts, bacon, and parsley in with the cheese, leaving nothing to roll the cheese ball in.
(Source: Myself,
Divine Dinner Party
)
Enjoy!