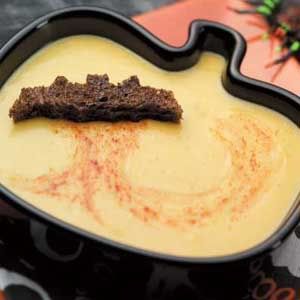 Yield: 7 servings.
.Ingredients.
7 slices pumpernickel bread
4 tablespoons butter, divided
1 tablespoon olive oil
Dash salt
1/2 cup chopped onion
1/4 cup chopped celery
2 tablespoons all-purpose flour
1 teaspoon chicken bouillon granules
1/4 teaspoon dill weed
1/4 teaspoon curry powder
Dash cayenne pepper
2 cups chicken broth
1 can (12 ounces) evaporated milk
3 cups mashed cooked acorn squash
Additional cayenne pepper, optional


.Instructions.
1. Cut pumpernickel bread with bat- or cat-shaped 3-1/2-in. cookie cutters; discard scraps. Melt 2 tablespoons butter. In a small bowl, combine the butter, oil and salt; brush over both sides of cutouts. Place on an ungreased baking sheet. Bake at 300° for 10-15 minutes or until crisp and toasted. Remove to a wire rack to cool.
2. In a large saucepan, saute onion and celery in remaining butter until tender. Stir in the flour, bouillon, dill, curry and cayenne until blended. Gradually add broth and milk. Bring to a boil; cook and stir for 2 minutes or until thickened. Stir in squash; heat through. Cool slightly.
3. In a blender, process soup in batches until smooth. Return to the pan; heat through. Garnish servings with bat or cat cutouts; sprinkle with additional cayenne if desired.


(Source: Taste of Home)


Enjoy!