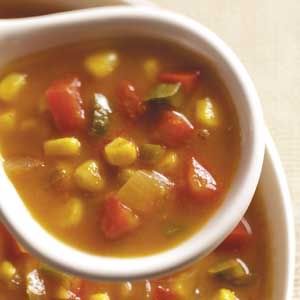 Yield: 7 servings.
.Ingredients.
1 large onion, chopped
1 medium sweet red pepper, chopped
2 tablespoons butter
2 cups fresh or frozen corn, thawed
1 jalapeno pepper, seeded and chopped
2 garlic cloves, minced
2 teaspoons chili powder
2 cans (14-1/2 ounces each) vegetable broth
1 can (15 ounces) solid-pack pumpkin
1/2 teaspoon salt
Dash cayenne pepper
2 tablespoons lime juice


.Instructions.
1. In a large saucepan, saute onion and red pepper in butter until almost tender. Add the corn, jalapeno, garlic and chili powder; saute 2 minutes longer.
2. Stir in the broth, pumpkin, salt and cayenne until blended. Bring to a boil. Reduce heat; cover and simmer for 10 minutes. Stir in lime juice.


.Tips.
Wear disposable gloves when cutting hot peppers; the oils can burn skin. Avoid touching your face.


(Source: Taste of Home)


Enjoy!