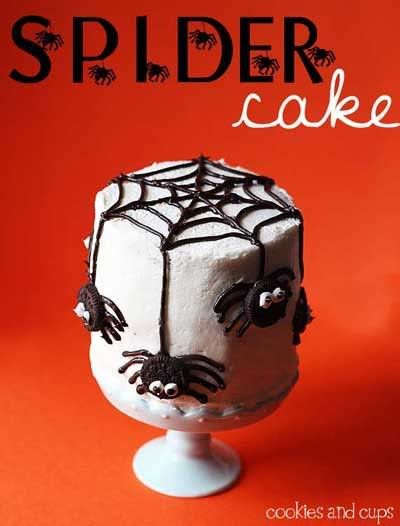 .Ingredients.
Cake Mix (Box or Scratch, your choice)
orange food coloring (or red and yellow)
Chocolate frosting
white frosting
mini Oreo cookies
.Instructions.
1. Bake your cake and using some food coloring turn it orange. The cake in the photo was baked using a mini 4 inch pan (3 layers).
2. Chocolate frosting was used for the filling between the layers.
3. Cover in white frosting, (your choice on flavor or make your own buttercream).
4. Use leftover chocolate frosting to pipe on the spider web. A piping bag and a #4 decorating tip was used for the photo. You could certainly use a Ziplock bag and snip off the corner.
5. Extend the "web" down the side of the cake, pipe the spider legs longer than your cookie so the frosting can help hold the cookie spider body like glue.
6. With more leftover frosting, you can give the spiders some little eyes.


(Source: cookies and cups)


Enjoy!