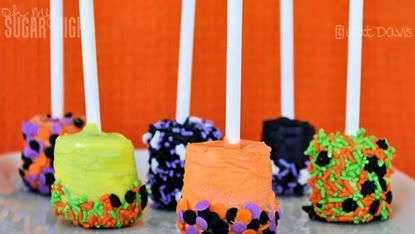 .Ingredients.
Orange Candy Melts
Midnight Black Candy Melts
Spooky Green Candy Melts
Halloween Sprinkle Mix
Large marshmallows
4 in. Lollipop Sticks
Non-Stick Parchment Paper or Wax Paper
.Instructions.
1. Simply start by placing a lollipop stick through the center of each large marshmallow. Now, if you want these to be a more interactive treat for say a kid's party, you could set these aside in an air tight bag and let the kids dip their own.
2. In a microwave safe cup, melt any color of Wilton Candy Melts for 30 seconds at a time on a medium heat, stirring between each reheat. I found that 50% power for a total of 3 minutes 30 seconds worked out perfectly for about 1 cup of candy melts.
3. Rather than dip the marshmallows like you would a strawberry in chocolate, I found it worked best to roll the marshmallows through the candy melt, then roll the marshmallow along the inside of the cup to remove excess candy coating.
4. Next, sprinkle on your favorite decorations and stand them on parchment or wax paper to dry. You can even pop them straight into the fridge to chill before serving.


(Source: Food Family and Finds)


Enjoy!