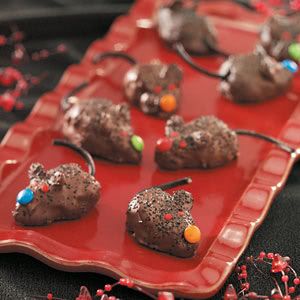 Yield: 3 dozen.
.Ingredients.
1 cup creamy peanut butter
1/4 cup butter, softened
1/2 teaspoon vanilla extract
1-1/2 cups confectioners' sugar
1-1/2 cups crisp rice cereal
3/4 cup sliced almonds
12 ounces dark chocolate candy coating, chopped
1 tablespoon shortening
36 pieces black shoestring licorice (2 inches each)
Assorted candies: Red cake decorator dots, M&M's semisweet miniature baking bits and black sugar


.Instructions.
1. In a small bowl, beat the peanut butter, butter and vanilla until blended; gradually beat in confectioners' sugar. Stir in cereal. Shape into 1-in. balls, tapering one end to resemble a mouse. Position almonds on heads for ears. Refrigerate until chilled.
2. In a large microwave-safe bowl, melt candy coating and shortening; stir until smooth. Dip mice into coating; place on waxed paper-lined baking sheets. Immediately insert licorice for tails. Add red dots for eyes and M&M's miniature baking bits for noses. Sprinkle with black sugar. Refrigerate until set.


(Source: Taste of Home)


Enjoy!