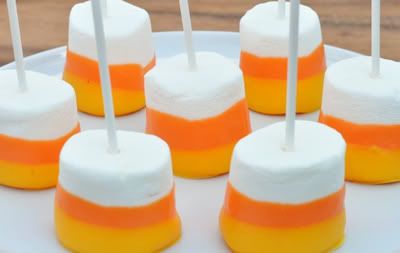 .Ingredients.
giant marshmallows
orange candy melts
yellow candy melts
Popsicle sticks
.Instructions.
To make these, all you do is dip 2/3 of the marshmallow in orange candy melt, let it cool, then dip the bottom 1/3 of the marshmallow in the yellow candy melt. Once wrapped, they make fun treats for holiday parties, teacher gifts or just to munch at home.
.Tips.
Add a tablespoon of Crisco to 1/2 cup of Wilton candy melts to make the candy more smooth for dipping.
Let the orange fully dry before dipping in the yellow candy.
Use GIANT campfire marshmallows, bigger is better, always.
Pop the treats in the fridge for an hour before eating.


(Source: Food Family and Finds)


Enjoy!