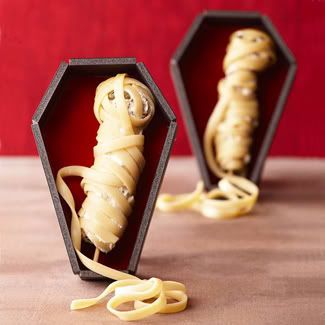 .Ingredients.
Pre-Made or Home-Made Meatballs
4-inch pieces of Summer Sausage
2 pkg 8 oz cream cheese
pre-made or home-made pesto
cooked fettuccine noodles
capers
pasta sauce
6 inch wood skewer
.Instructions.
Wrap a legion of scary mummies for a Halloween dinner or party appetizer. To make, skewer a purchased meatball and a 4-inch piece of summer sausage stick with a 6-inch wooden skewer. Combine 8 ounces of cream cheese and 1 teaspoon of purchased pesto. Spread some of the mixture over the meat skewer and wrap with cooked fettuccine noodles. For a more bulky body, spread with additional cream cheese mixture and wrap with another layer of cooked fettuccine. Add capers for eyes. Serve with pasta sauce for dipping.
(Source:
Better Homes and Gardens
)
Enjoy!