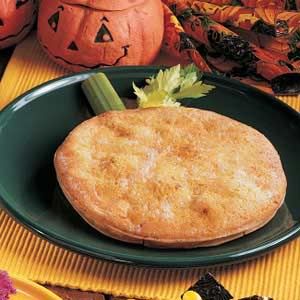 Yield: 12 servings.
.Ingredients.
3 cups (12 ounces) shredded cheddar cheese
3/4 cup butter, softened
3 eggs
1/2 teaspoon garlic salt
1/2 teaspoon onion salt
18 flour tortillas (6 inches)
Paprika
6 celery sticks with leaves, optional


.Instructions.
1. In a food processor, blend cheese and butter. Add the eggs, garlic salt and onion salt; process for 1 minute or until creamy. Spread 1/4 cupful on each tortilla.
2. Stack three tortillas, cheese side up for each sandwich; sprinkle with paprika. Place on ungreased baking sheets.
3. Bake at 400° for 10-15 minutes or until golden and bubbly. If desired, add celery to resemble a pumpkin stem. Cut sandwiches into halves to serve.


(Source: Taste of Home)


Enjoy!