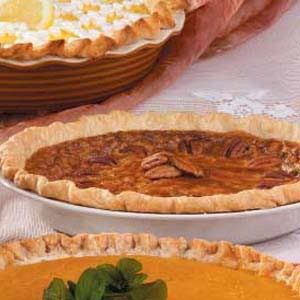 Yield: 6-8 servings.
.Ingredients.
36 caramels
1/4 cup water
1/4 cup butter, cubed
3 eggs
3/4 cup sugar
1 teaspoon vanilla extract
1/8 teaspoon salt
1-1/3 cups chopped pecans, toasted
Frozen deep-dish pie shell
Pecan halves, optional


.Instructions.
1. In a small heavy saucepan, combine the caramels, water and butter. Cook and stir over low heat until caramels are melted. Remove from the heat and set aside.
2. In a small bowl, beat the eggs, sugar, vanilla and salt until smooth. Gradually add caramel mixture. Stir in chopped pecans. Pour into pie shell. If desired, arrange pecan halves over filling.
3. Bake at 350° for 35-40 minutes or until set. Cool on a wire rack. Refrigerate leftovers.


(Source: Taste of Home)


Enjoy!