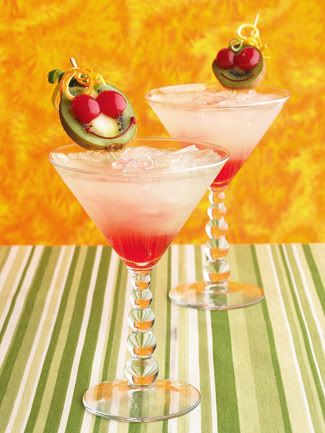 .Ingredients.
Margarita mix (Tequila optional) or lemonade (optional)
Grenadine
Skewer
1 Kiwi
1 lemon
1 lime
1 orange
Maraschino cherry with stem
Toothpicks
.Instructions.
1. Serve chilled margarita mix on the rocks and add a splash of grenadine.
2. Skewer a slice of kiwi for the face. Cut a cherry in half and attach with pieces of toothpick for eyes. Slip the skewer into the beverage glass. Add the cherry stem for a smile and twists of lemon, lime, and orange peel for hair.


(Source: Better Homes and Gardens)


Enjoy!