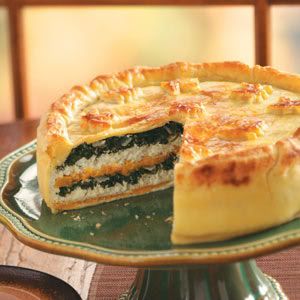 Yield: 12 servings.
.Ingredients.
1 small butternut squash (1-1/2 pounds), peeled, seeded and cut into 1/4-inch slices
3 eggs
3 cups ricotta cheese
1 cup grated Romano cheese
1 teaspoon rubbed sage
1 teaspoon water
1 small onion, chopped
2 tablespoons olive oil
2 packages (10 ounces each) frozen chopped spinach, thawed and squeezed dry
2 garlic cloves, minced
1/4 teaspoon ground nutmeg
1 package (17.3 ounces) frozen puff pastry, thawed


.Instructions.
1. Place squash slices on baking sheet coated with cooking spray. Lightly spritz with cooking spray. Bake at 400° for 15 minutes or until tender.
2. Meanwhile, in a bowl, combine two eggs, cheeses and sage. In a small bowl, whisk the water and remaining egg; set aside.
3. In a large skillet, saute onion in oil until tender. Stir in the spinach, garlic and nutmeg. Cook and stir for 2 minutes; set aside.
4. Unfold one pastry sheet onto a lightly floured surface. Roll out into a 14-in. square. Press onto the bottom and up the sides of a greased 9-in. springform pan, allowing the excess pastry to drape over the edges. Brush with reserved egg mixture.
5. Layer with half of the squash, cheese mixture and spinach. Repeat layers. Roll out the remaining pastry into a 10-in. square; place over filling. Trim edges; fold the bottom pastry over the top and press edges to seal. Reroll pastry trimmings. Cut out with a small leaf cookie cutter; place on torte. Brush pastry with egg mixture.
6. Place pan on baking sheet. Bake at 400° for 40-45 minutes or until golden brown. Remove to wire rack to cool for 45 minutes. Serve warm or at room temperature. Refrigerate leftovers.


(Source: Taste of Home)


Enjoy!