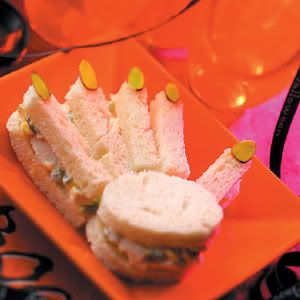 Yield: 6 sandwiches.
.Ingredients.
2 cups finely chopped cooked chicken
1 small cucumber, finely chopped
2 hard-cooked eggs, finely chopped
1 celery rib, finely chopped
1/3 cup mayonnaise
1/4 teaspoon salt
1/8 teaspoon ground mustard
1/8 teaspoon white pepper
24 slices thin sandwich bread, crusts removed
Sliced almonds
1 tablespoon spreadable cream cheese
Neon green food coloring, optional


.Instructions.
1. In a small bowl, combine the first eight ingredients. Spread 1/4 cup chicken salad onto 12 bread slices; top with remaining bread.
2. For fingers, cut each of six sandwiches into four 3/4-in. strips. With a small knife, trim one end of each strip, forming a point. For fingernails, attach an almond to each strip with a dab of cream cheese. With a clean paint brush, paint almond nails with green food coloring if desired.
3. From each of the remaining sandwiches, cut out one strip for the thumb and one 2-in. oval for the palm. Trim strips; attach almonds and paint the thumbnails. Arrange one palm, four fingers and a thumb on each plate.


(Source: Taste of Home)


Enjoy!