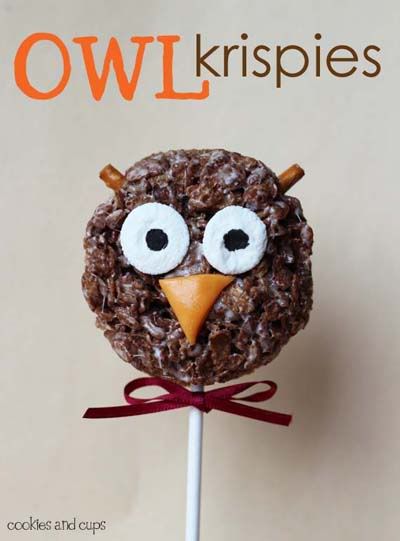 Cocoa Pebbles Marshmallow Treats:
.Ingredients.
6 cups Cocoa Pebbles
1 (10.5 oz) bag of mini marshmallows
1/4 cup butter


.Instructions.
1. Spray a 9×9 pan lightly with cooking spray.
2. Melt butter over low heat in large saucepan.
3. When butter is melted stir in your marshmallows until melted.
4. Remove from heat and stir in your Pebbles.
5. Press into prepared pan.
6. Let cool for 15 minutes and cut using knife or cookie cutter.


Owl Krispies:
.Ingredients.
pretzel sticks
mini marshmallows
a black food writer
orange Tootsie Roll


.Instructions.
1. Take a 2″ round cookie cutter to cut the krispies into circles.
2. Using a rolling pin, flatten the mini marshmallows. The marshmallow will stick on easily to the krispie treat.
3. Flatten your orange Tootsie Rolls, then you can cut your beak. Just press them on your spider.
4. Draw eyes on with your black food writer and carefully stick the pretzel sticks in the top for ears.


(Source: cookies and cups)


Enjoy!