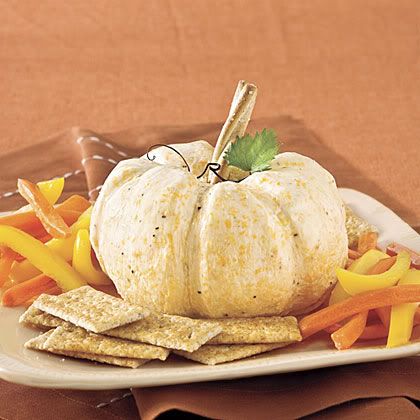 .Ingredients.
2 (10-oz.) blocks extra-sharp white Cheddar cheese, shredded*
1 8-oz.) package cream cheese, softened
2 (4-oz.) goat cheese logs, softened
1/2 teaspoon pepper
Braided pretzel, muscadine vine and leaf
Crackers and assorted vegetables
.Instructions.
1. Stir together first 4 ingredients. Shape mixture into a ball to resemble a pumpkin. Smooth pumpkin's entire surface with metal spatula or table knife. Make vertical grooves in ball, if desired, using fingertips. Press pretzel into top of cheese ball to resemble a pumpkin stem; place muscadine vine and leaf beside pretzel. Serve with crackers and assorted vegetables.
.Tips.
Extra-sharp Cheddar cheese may be substituted.
To make ahead, wrap cheese ball in plastic wrap, without stem, vine, or leaf, and store in refrigerator up to two days. Attach stem, vine, and leaf before serving.


(Source: My Recipes .Com)


Enjoy!