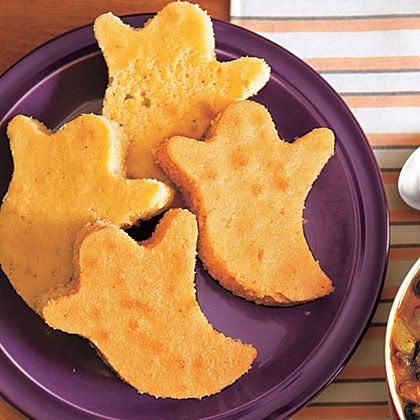 .Ingredients.
2 cups all-purpose flour
2 cups cornmeal
1 teaspoon baking soda
1 teaspoon salt
16 tablespoons (2 sticks) unsalted butter, melted
1 1/3 cups sugar
4 large eggs
2 cups buttermilk
.Instructions.
1. Preheat oven to 375ºF. Mist a large, rimmed baking sheet with cooking spray.
2. In a medium bowl, combine flour, cornmeal, baking soda and salt. In a large bowl, whisk melted butter and sugar. Whisk in eggs until well combined. Whisk in buttermilk.
3. Add dry ingredients to buttermilk mixture and stir with a wooden spoon until just combined, leaving a few lumps. Do not overmix. Pour onto baking sheet, spreading evenly, and bake until golden and a toothpick inserted in center comes out clean, 20 to 25 minutes. Place pan on a wire rack to cool.
4. Use a 3- to 4-inch ghost-shaped cookie cutter to form cornbread ghosts.


(Source: My Recipes .Com)


Enjoy!