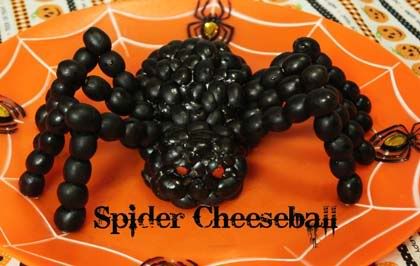 .Ingredients.
Cheese­ball:
2 (8 oz) pack­ages of cream cheese, softened
1 1/2 C shred­ded cheese blend (I used a mix of sharp, colby jack, and mon­terey cheddar)
3/4 C fresh shred­ded parme­san cheese
1/2 C mayonnaise
2 T gar­lic & onion chives, chopped (you could do green onions instead, but we had chives in the garden)
2 tsp red pep­per flakes
1 tsp gar­lic powder
Spi­der:
3–5 cans black olives (depend­ing on cheese­ball size & olive size)
wooden skew­ers (I used 4, each cut into smaller pieces)
pimento (for eyes)


.Instructions.
1. Blend together all the cheeses using a hand or stand mixer. Then, add in chives (or onions), sea­son­ings, and mayo.
2. Once creamed together, shape into a spi­der (head & abdomen) onto a plat­ter (I didn't use all of it, because there was some­thing else I wanted to try too).
3. Halve olives and begin cov­er­ing the spi­der. Then begin con­struc­tion on the legs.
4. For the legs, cut seg­ments off a skewer (size deter­mined by the size of your spi­der). Stick the cut skewer into the cheese­ball (where the head and abdomen meet). Then, lace the olives onto the skewer (through their holes), leav­ing a lit­tle bit of the end of the skewer open. For the bot­tom part of the leg, lace the olives onto the skewer leav­ing the top part of the skewer open. To attach the two skew­ers, place one olive such that both skew­ers will stick into it (and con­nect). Repeat the process until the entire spi­der is com­plete.
5. For the eyes, slice an olive so that you have open rings. Inside each open­ing, place a pimento for some creepy red eyes!


(Source: Mom Endeavors)


Enjoy!