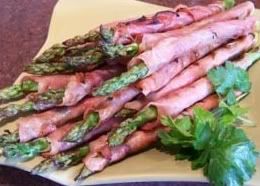 Recipe makes 20 "fingers", enough to serve about 10 people.
.Ingredients.
20 spears of asparagus
5 cloves of garlic, minced or pressed
1 lemon, juice of
1/2 lemon, zest of
2 tbsp. extra virgin olive oil
freshly ground black pepper, to taste
sea salt, to taste
1/4 C. Italian flat-leaf parsley, minced
20 very thin slices Spanish Jamon or Italian Prosciutto
.Instructions.
1. Preheat the oven to 400 degrees F.
2. Thoroughly wash and break off the tough ends of the asparagus. Dry thoroughly.
3. Toss asparagus in a baking dish with garlic, olive oil, lemon juice and zest, parsley, salt and pepper. Watch out with the salt, as the Prosciutto is salty, as well.
4. Roast until crisp-tender, about 10 minutes. Poke with a fork to assure they've reached the desired level of doneness. They'll cook a bit more on the grill, so don't overdo it.
5. Let cool slightly.
6. Wrap the bottom part of each asparagus spear (be sure to scoop up a bit of your garlic/parsley/oil mixture with each one) in one slice of jamon or Prosciutto, letting the top of the asparagus protrude from the meat.
7. Heat a grill to high heat and grill, turning occasionally, until Prosciutto or jamon is crisp.
8. Serve hot.
.Tips.
* Try to get medium-sized asparagus spears-- not too thick and not too thin.
* Cook the asparagus and assemble this with the jamon or Prosciutto ahead of time, and then crisp the meat on an electric grill right before serving.
(Source:
Divine Dinner Party
)
Enjoy!